downloads:roms & emulation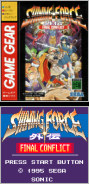 The real Game Gear cartridge of Final Conflict is pretty hard to come by, as it was only released in Japan, and it seems that very few people want to part with theirs. If you're looking for a genuine copy of the game, I may be able to help you locate one, but I should warn you that they can cost a fortune. They've been known to sell for $100-$300 - most often at the higher end of that scale.
Well, for those of you who can't find or afford the real thing, you could download the ROM of the game. My host does not allow the hosting of ROMs, nor links to ROM sites or the files themselves. If you want to find them, I'm afraid you're on your own - don't ask me!
Remember, the ROM is in Japanese - the game was only released in Japan, and as yet, no fully translated versions are available. Please do not email me asking for an English version, or a translation.
You will also need a Game Gear Emulator on which to play the ROM. I would recommend MEKA, however a whole selection of Emulators are available from Zophar's Domain. I suggest you visit the site and choose the one best suited for you.
Please note that I cannot offer support for any emulators or ROMs. If you can't get it to work, ask someone at my Emulation Forum about it!
---
Save Files for Emulators